The Early Childhood Workforce Deserves Better
We hear about workforce shortages economy-wide in the news every day, and the early childhood workforce, which includes child care, home visiting, and early intervention services, is no exception. Michigan's Children hosted a Lunch and Learn panel discussion with early childhood experts, administrators, and parents recently to get to the bottom of this workforce shortage, which is now at a crisis point. Panelists shared that poverty wages, overwhelming workloads, and public misconceptions about their work are leading to a mass exodus of professionals from early childhood settings. With the state legislature sitting on over $7 billion in surplus funds, there has never been a more pressing time or a greater opportunity for investment in this workforce.
Low pay, coupled with harmful misconceptions that early childhood professionals are babysitters instead of teachers and providers, cause this workforce to feel undervalued and underappreciated. And with good reason! These professionals are educated and experienced in their fields, and directly shape the growth of young children during their first years when brain development is more rapid than at any other time in their lives. They teach kids foundational skills in education, social and emotional learning, relationship-building, and more.
One of the panelists at the Lunch and Learn program, titled "Michigan's Early Childhood Workforce Crisis: The Way Forward," expressed concern over the dire position that their child care programs are in with recruiting and retaining staff. Moreover, staff who do remain are becoming burned out from their expanded roles. Dr. Ericka Taylor, executive director of Early Childhood for the Saginaw Intermediate School District (ISD), where 33 of 180 educational staff positions are open, described staff shortages are at an all-time high. "Within Saginaw ISD, we may have an interview (with an applicant) but before they report for their first day of work, they get another job offer elsewhere with higher wages. Sometimes it's totally out of the child care realm. They're just trying to find jobs to help them take care and sustain their own families. We can't get upset about it. But we have to change that."
Dr. Taylor is working to change that. Besides her day job, she is co-chair of the Think Babies Michigan Cross-Sector Workforce Strategies Workgroup.
Child care programs are struggling to make ends meet, themselves, and don't have the ability to raise child care wages on their own. As a result, the average wage is just $12 an hour. Many argue it's an economic formula that doesn't work: Child care providers say they can't charge parents more than they already pay. Similarly, many home visiting and early intervention programs are strapped for funding resulting in workforces that are not fairly compensated. $1,000 bonus payments are on their way to child care teachers whose employers applied for state grant funding, but considering how easily big businesses can outcompete a bonus like that, panelists echoed the need for a larger, more sustained investment in early childhood workforce wages.
During the Lunch and Learn program, panelists insisted that targeted recruitment strategies and professional development must accompany increases in pay for this essential workforce. Career fairs for high schoolers, college and adult education students are the perfect opportunity to introduce child care, home visiting, and early intervention services as viable career paths with opportunities for advancement. Customized workshops are another useful recruiting tool: Youth Opportunities Unlimited in Kalamazoo developed a training to show young people what it's like to choose a career in an early childhood field. Edison Neighborhood Early Childhood Collaborative is recruiting community members to become early childhood professionals, supporting them in obtaining their Child Development Associate (CDA) credential, and investing in professional development opportunities for educators to build on their skills. This type of supportive environment requires community engagement and targeted investments.
Matt Gillard, Michigan's Children's president and CEO, said the workforce challenges facing early childhood have been a focus of advocates for years but it's time to get serious about addressing them. "We're not going to create an early child system we want to see in our state unless we address challenges the workforce faces," he told the online gathering. Critical this year is that most advocates hoped and anticipated that Build Back Better legislation would have succeeded by now with new resources to address issues like these, he added. Now, the focus has shifted to winning support from unallocated state funds already here, he said.
Early childhood professionals deserve better, in compensation, acknowledgment of their incredible work, professional development opportunities, and so much more. Michigan's Children will continue to urge the state legislature to do the right thing by investing in this workforce, and we invite you to lend your voice to this critical issue!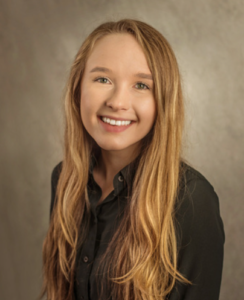 Madeline Elliott is a policy associate for Michigan's Children, focused on early childhood.