New 2021 Statewide Poll Reveals:
Michigan Voters Expect More Investment in Children and Youth
Mackinac Island, Mich. – In a new poll issued by Michigan's Children and The Skillman Foundation, nearly two-thirds (62 percent) of Michiganders queried said they would support increasing public funding for children and youth to counter inequities and the effects of pandemic-related ills, including disrupted learning and impaired mental health (anxiety, depression, ADHD).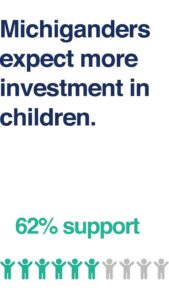 Voters said they would favor greater state investments to help the state's two million children and youth overcome challenges in educational pursuits, health and well-being, trauma and poverty — even it means raising taxes. Fifty-eight percent of voters from across all regions and demographics said they would vote to raise their taxes in order to help improve the lives and future prospects of Michigan's children.
Nearly 800 likely 2022 General Election voters were contacted in the phone survey from July 27 to August 3. Results were released during a session of the Detroit Regional Chamber's 2021 Mackinac Policy Conference on Sept. 20, 2021. Matt Gillard, president & CEO of Michigan's Children, was joined by Angelique Power, The Skillman Foundation's incoming president & CEO; and Celinda Lake, president of Lake Research Partners, in making the announcement.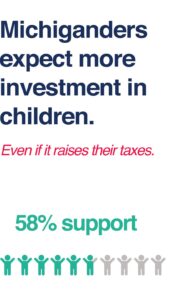 Voters said they would strongly support or somewhat support improved resources in:
jobs and skills training programs (85 percent);
programs that improve mental health (83 percent);
programs that reduce numbers of youth in the criminal justice system (82 percent);
afterschool programs that provide quality childcare and enrichment (81 percent);
programs that increase children's safety and security (78 percent);
and more affordable quality childcare for working families (78 percent).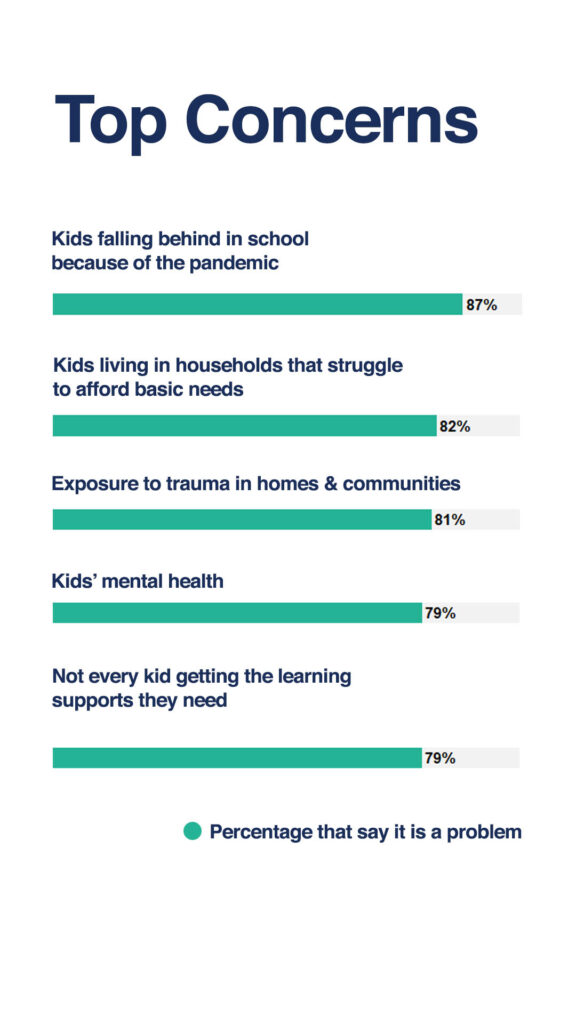 The poll explored public opinion of how well Michigan children's needs are being addressed and sought to understand the areas of greatest public concern and support. The likely general election voters said they expect their dollars to be put to work to help children led healthy, productive lives.
"This poll shows us that voters can envision a brighter future for our state and Michigan's economic prosperity if we start making wise investments in the next generation of citizens today," Matt Gillard, President & CEO of Michigan's Children, said. "That means fewer children experiencing abuse or neglect, children better equipped for the workforce, fewer numbers of youth involved in the juvenile justice system, improved mental health, and greater economic and racial equity."
"Going forward, this data is of vital interest to child advocates, as well as lawmakers, to better understand the children's issues that have the greatest public will behind them and which require further advocacy to build awareness and support," Gillard added.

Advocates: Learn more about the poll results and where Michigan voters favor making investments in this graphic report available in PDF form and in a PowerPoint.
Watch our one-hour presentation What Michiganders Want: Investments in Children made at the Detroit Regional Chamber of Commerce's Mackinac Policy Conference on September 20, 2021.
Read our news release about the survey results with comments from leading principals in the project.
---
Media Coverage: What Michiganders Want: Investments in Children
Opinion: Michigan supports funding for our children's futures
September 21, 2021|The Detroit News
Results of Statewide Poll Show Support Towards Increasing Funding For Kids
September 20, 2021|9&10news.com
Poll: Michigan voters favor investment in children even if taxes increase
September 20, 2021| Detroit Chalkbeat.org
Poll: Michigan would raise taxes to spend more on helping children
September 21, 2021 | Bridge Michigan
A poll issued by The Skillman Foundation and Michigan's Children finds Michigan residents demand investing in kids be a priority. Across all geographies and demographics, voters expect their dollars to be put to work to help children lead healthy, productive lives