Hundreds Use their Voices for Early Childhood at Capital Day
Hundreds of early childhood advocates urged their lawmakers to "Think Babies" during a Capitol Day in Lansing hosted by Think Babies Michigan and the Michigan Association for the Education of Young Children (MiAEYC) on March 15, 2023. They came together to raise up the policy priorities that the Think Babies Michigan coalition has championed, and had the opportunity to hear from Governor Gretchen Whitmer's education policy advisor, Michelle Richard, about the Governor's plans to usher in universal preschool for all 4 year olds.
Richard explained that Governor Whitmer is seeking input from the early childhood community to determine the best way to roll out the GSRP expansion. The Governor has pledged to be intentional about including parent, teacher, director, and other early childhood stakeholder voices in the process. She also said the Governor is fully aware that 4 year olds are just one age group in the early childhood system, and in order to properly support the entire system, they need to lift up providers who serve infants and toddlers.
Lt. Gov. Garlin Gilchrist II echoed those views, and gave high praise to the child care workforce, stressing it is a highly skilled profession. He urged the advocates to hold the Governor to those promises by reaching out to her office and offering ideas about how those caring for infants and toddlers should be supported through this transition.
Think Babies Michigan coalition members are certain to voice their concerns that the state needs to do more to support current child care providers as they push to open more preschool and child care classrooms across the state. Child care providers are well aware that families are hurting for child care slots, but they also believe that opening more centers means current providers will have to compete for teachers with those new programs. Michigan has lost almost one-quarter of its child care workforce since 2005 to other sectors with higher wages and benefits, so the state needs to get serious about investing in higher early childhood wages and comprehensive supports for the field.
"To fund the system at the true cost of care, we need an Early Childhood fund that serves as a dedicated revenue source," Alicia Guevara Warren, Senior Director of Policy and Advocacy for the Early Childhood Investment Corporation, said. "Creating a dedicated Early Childhood fund within Michigan's state budget will ensure adequate compensation for the early childhood workforce, lower costs for families, and (provide) greater support for the local community infrastructure to help families access services."
Our President & CEO Matt Gillard addressed advocates by setting the scene about the status of the current and ongoing budget process. Think Babies Michigan and MiAEYC members helped prepare coalition members to meet with their lawmakers with these talking points. Monique Vasquez, a Think Babies Michigan Parent Leader, told attendees how she has been working to overcome social anxiety and stage fright in order to meet with lawmakers and take a leadership role in this movement. She reassured attendees that "sharing your story can be vulnerable, so it's up to you how much you want to actually share." In order to make an impact during meetings with your lawmaker, she advised that "rehearsing is everything. I prepare by organizing my thoughts, organizing my notes, and getting my stories together." She also stressed that you don't have to do it alone. Think Babies Michigan, the Michigan Association for the Education of Young Children, and Michigan's Children can help by giving you the 411 on early childhood policy so you can take on legislative meetings, even if your voice quivers.
View these additional resources:
Watch local news coverage on WLNS Lansing.
Watch the recorded live stream.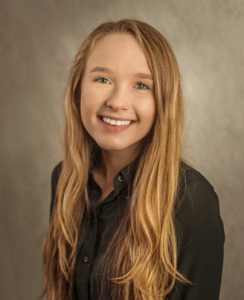 Madeline Elliott, madeline@michiganschildren.org, is a policy and programs associate at Michigan's Children.