Intern Mady Grant Wants to Improve Public Education for Everyone
My name is Mady Grant and I recently started an internship at Michigan's Children. I am a junior at Michigan State University, majoring in Social Relations and Policy, and Secondary Education with a minor in History. I'm enrolled in the College of Education and James Madison College and I thoroughly enjoy both. I'm from Okemos near Lansing, and my Dad has raised me as a Spartan since day one. (Go Green!) I enjoy running, playing card games, and trying different bubble tea flavors with my friends. For fun, I attend euchre club and run club at MSU, and I'm a member of the Kappa Alpha Pi Pre-law co-ed Fraternity. I also work at Playmakers and absolutely love my job there.
I plan on graduating on time, but I'll have a fifth year of in-classroom student teaching to complete after that. Depending on how that goes, I'll either jump into teaching right away, get my master's in education, go to grad school for education policy, or if I'm feeling really gutsy, I'll go to law school. I'm excited for the future and look forward to making public education better for everyone.
As the oldest sibling and cousin, I felt as if I grew up teaching and helping those around me, which is why I'd like to be a teacher one day. In an ideal world, I would be a high school history and government teacher, but recently my attention has been drawn to the policy side of education. There's a lot that needs to be changed in the K-12 and post-secondary education spheres. Part of my passion for changing education policies comes from my Mom. I've grown up watching her advocate for health care reforms, and her never-ending drive for helping those around her has rubbed off on me as well.
I'm very excited to be working at Michigan's Children and I hope to learn more about education policy at the local, state, and federal levels. Through Michigan's Children, I'd like to continue to learn about the Michigan's School Aid Budget and get a better understanding of where the money goes and how schools can use the money. I'd also like to see how the state of Michigan budget helps families and supports other resources for learning. I am interested in learning how other states have successfully increased their school aid budgets, as well. Additionally, I am interested in learning more about policies related to increasing teachers' pay and decreasing the cost of college.
I really like how Michigan's Children is all about bettering children and families, which is what I think most education policy should do, but usually doesn't. I'm just excited to learn from everyone around me and work on as many different projects as possible. Since I'm only a junior, I don't exactly know what I want to do when I graduate, so I'm hoping this internship will give me lots of hands-on experiences and opportunities to learn from my co-workers. Ideally, I'll leave this internship with a better idea of what my future jobs will look like!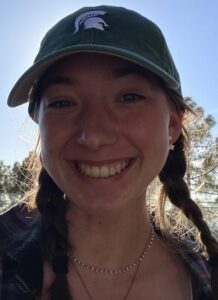 Mady Grant's internship at Michigan's Children continues through the summer.