Summer Internship Brings a Wealth of New Experiences for Senior Kelsey Hetherington
My name is Kelsey Hetherington, and I will be interning at Michigan's Children this summer. I am 21 years old and in my final semester of undergrad at Central Michigan University. I am looking forward to my internship because I believe it will challenge my thinking, provide me with new experiences, and assist me in becoming a better, more informed advocate.
When I first began my college career, I was lost on what I wanted to pursue. In my sophomore year, I enrolled in a couple of introductory child development and psychology courses and soon found my niche. Exposure to courses such as "Trauma and Resilience," "Studies in Personality," and "Applied Behavior Analysis" opened my mind to a new way of looking at the world, while simultaneously examining my own life. These classes left me inspired to want to make a difference. In my "Trauma and Resilience" course, I was most impacted by learning about techniques for working with children who have experienced traumatic events. I learned that therapies, such as art, animal, bibliography, and play, have been beneficial for healthy coping. Positive reinforcement, reinforcement schedules, and shaping techniques are effective techniques when working as a behavior technician. The foundation of shaping and manipulating behavior is to reinforce desirable behaviors and eliminate unwanted ones.
My future career aspirations are to become a board-certified behavior analyst (BCBA), working with children on the autism spectrum and their families. My motivation for becoming a BCBA stems from actively engaging in the autism community. Every summer, I devote time to volunteering at Special Olympics. My biggest inspiration for pursuing a career as a BCBA comes from my neighbor and close friend, who is on the spectrum. I have witnessed first-hand the positive impacts ABA therapy can have on an individual. To impact individuals positively and in a meaningful way is rewarding work. When my neighbor was 13 years old, he often engaged in maladaptive behaviors (hitting when frustrated, yelling cuss words, and insufficient self-control). Now, at 18 years old, he is about to graduate high school, and he does not engage in hitting while frustrated; instead, he verbally expresses his feelings, and has significantly decreased the frequency of using cuss words. He is now self-sufficient. These behavioral changes can be accredited to ABA therapy and the behavior technicians working alongside him. I have a strong desire to assist in improving the quality of life and promoting independence for individuals on the autism spectrum.
An issue I have become passionate about through my "Trauma and Resilience" course are adverse childhood experiences (ACEs). ACEs are a way of indicating levels of childhood trauma in individuals and can be transgenerational. Typically, the higher the ACE score, the more at risk the individual is to be impacted by diseases and social inequities. Adverse events can lead to serious and detrimental impacts in later life: the development of chronic diseases, declining mental health and decreased social functioning. One in 6 adults is known to have at least one ACE.
This summer, I am looking forward to the opportunities that will be presented to me at Michigan's Children, including learning about policy development. I will also be assisting in researching social-emotional learning programs for children ages prenatal to five. Social-emotional learning involves developing self-awareness, self-control, decision-making, and interpersonal relationships that are vital for school, work, and life success. Research has shown that strong social-emotional skills help individuals cope with everyday challenges and emotions which can benefit us academically, professionally, and socially. I am looking forward to seeing what is in store for me this summer!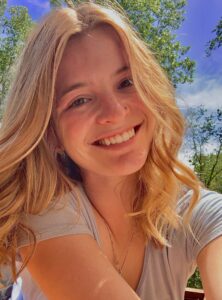 Kelsey Hetherington, a Grand Ledge native, plans to attend graduate school after graduating this summer and completing her internship at Michigan's Children.