Meet June Battjes, Michigan's Children Newest Intern
Hello, my name is June Battjes, and I am glad to be joining the Michigan Children's team as an intern this year.
I am currently a senior at Michigan State University (MSU) pursuing my bachelor's degree in Social Work with a minor in Law, Justice and Public Policy. I am a native Michigander and grew up in Fowlerville. My mother is a social worker and my father is an occupational therapist; they raised my siblings and me to continually give back to our community, which inspired me to pursue social work myself. Before attending MSU, I was enrolled in the Early College Program at Lansing Community College and received my Associate's Degree from the school in 2019. I am grateful for my participation in this alternative education program, as it allowed me to get a head start in the professional world.
I am excited to be working with Michigan's Children to help advocate for policies that best serve children and families. Michigan's Children's work to close equity gaps and advocate for child welfare align with the values I have been taught through social work. I was inspired to intern here due to these crucial objectives, as well as Michigan's Children's approach to affect change through policy reform. I pursued this internship with the hope to learn more about the policy advocacy process.
Particularly, I am excited to be a part of a team advocating for the reform of student discipline legislation in the hopes of decreasing inequitable educational outcomes. We are working to support the Expulsion Prevention bills and the Safe Student Act, which aim to reform suspension and expulsion processes and reporting requirements. My role in this project will be to complete data analysis of school suspension rates, perform outreach to partners and constituents, and help plan an advocacy event that addresses the issue.
After graduating, I plan on attending law school to pursue a career in public interest law. There I hope to study civil rights law and further research the impacts that public policy and the judicial system have on racial injustice.
My prior experiences have contributed to my career goals and have given me unique perspectives and skills that I hope to contribute to Michigan's Children. In 2018, I interned with Capitol Services, a state lobbying firm, where I learned about the state legislative process and worked with advocacy groups such as the Michigan Coalition to End Domestic Violence. It's where I discovered a love for public policy work and gained a larger understanding of the impact that state policy has on individuals and families.
Other prior experiences include working for AmeriCorps VISTA and the Detroit nonprofit, Focus: HOPE. At AmeriCorps Vista, I served as a facilitator for a youth social justice program, Generation of Promise. Engaging with groups of young leaders emphasized to me the importance of uplifting marginalized youth voices when working with policies that affect them greatly. Through Focus: HOPE, I learned how important it is that Michigan students have equal access to tools for success regardless of race, geographic location, ability, or socio-economic status.
I am eager to see what this year will bring at Michigan's Children. My hope is that I will discover new insights in the state policy process and key advocacy skills.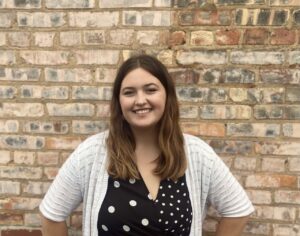 June Battjes, Michigan's Children Newest Intern