Former Foster Youth Credits On-Campus, Post-Secondary Education and Help with Giving Her a Better Future
As a child of the state's foster care system, I've had experiences that most people couldn't relate to. But I've also gained incredible insights into what helps young adults like me emerge strong and resilient. Today, I advocate for programs and services to help other young people like myself. In this blog, I'd like to introduce you to some of the services that have made a real difference for youth emerging from the child welfare system. With first-hand experience, I enthusiastically promote on-campus programs that are uniquely designed to help youth with foster care experience achieve success in college.
Not all colleges have these programs, but I was fortunate to become involved with the FAME (Fostering Academics Mentoring Excellence) Program as a freshman at Michigan State University (MSU). The FAME Program was tremendous at helping me thrive throughout my collegiate career. I was provided with a career coach, mentor, and had access to several FAME champions on campus, including the financial aid office. These advocates educated me on how I could succeed and directed me towards resources when necessary. I learned about scholarship opportunities through them and even went on to win some of that money. In fact, my study abroad to South Africa was 100 percent funded with scholarships! The unmet need ($4,500) was covered by the Jim and June Grant Fund at MSU for former foster youth. My FAME champion in the financial aid office helped me find it and also used money from that grant fund to pay for my health insurance for the four years I was enrolled there. We know the college attainment rate for youth out of foster care is incredibly low, resulting in great hardships in life success. That's why these impactful on-campus programs must be supported and expanded to other colleges and universities in Michigan.
However, I wish I had more support going into college initially. As a first-generation college student, I didn't know how to navigate financial aid. When I was accepted into Michigan State University, they gave me the best financial aid package possible because I indicated I was in foster care after the age of 13 on my FAFSA, which meant I only had to take out $1,700 in loans. One day when I logged into my account, I saw my status changed and I owed $8,000. I freaked out and logged some scholarship money I won in high school on my account to alleviate some pressure, but when I called the financial aid office, they said the status change was simply because they didn't have the right paperwork. Once I provided that to them and got my financial aid package back, I saw they deducted grant money from me because they knew I had outside scholarship money. When I expressed that I made a mistake and told them I needed that to pay for books and a computer, I was told all the grant money for the year was gone. Now I'm an additional $4,000 in debt for a simple mistake. That still bothers me to this day and I'm STILL paying on it!
When I was struggling at MSU, the FAME program directed me towards grant money to help pay for my health insurance. I got really lucky! I asked for help out of desperation and they were there for me. I believe foster youth have access to health insurance while they're in foster care, but I was adopted by a relative after going into the system.
Unfortunately, none of those resources were there when I needed it. My adoptive parent didn't have health insurance himself, so I transitioned to college without it too. It was tough because I have asthma and needed my medication. I'm grateful for the FAME program. I also didn't have dental insurance, but fortunately discovered a non-profit in Lansing, Care Free Dental, that had dentists who volunteered to clean people's teeth for $25 without insurance. I went there for four years.
I didn't realize I needed counseling until I graduated from college and went through a terrible breakup. That's the moment I realized I hadn't healed from my past and it was affecting other aspects of my life. While I had a college degree, I felt lost. I decided to register for counseling on my own once I had health insurance through my employer. I paid $20/week for almost a year and a half. It was certainly an investment, but it changed my life. I finally was able to let go of scars that had been haunting me and dragging me down for years. This experience has made me realize that mental health care for young people coming out of foster care is critical into adulthood because past traumas can emerge at any stage of life.
I love the person I am today because I worked through my past and never gave up on myself. Most people don't have that opportunity. When you're going through foster care, your only desire is to survive. It's impossible to understand and process everything that's happening. It all clicks randomly years down the road after you experience life on your own and compare it to the past. When you're a child, you just don't see it. There's so many moving pieces! I want others to have an opportunity to seek mental health services post foster care as well, if possible. It makes a world of difference.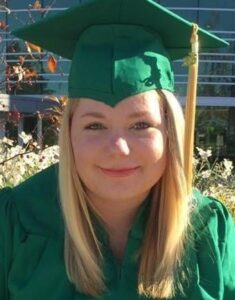 Angelica Cox, 26, is a human relations professional in the insurance field who entered foster care as an adolescent with her two sisters. She's based in the Lansing area and has emerged as a strong national and statewide advocate for youth from foster care. Read a Spotlight on her family story here.