With a 'Bee in Her Bonnet,' Michele Corey was the Ultimate Champion for the People
Michigan lost another brilliant soul. But we have not lost her wisdom.
As a person, colleague, and advocate, Michele Corey was a role model. Michele grew up on dirt floors, surrounded by love, wanted to help people, and got a social work degree. At a job in a Congressperson's office, she saw how you could help a lot more people by changing systems.
After that, all of Michigan's children became Michele Corey's children. Michele would fight for anyone who grew up breathing Great Lakes air and drinking its water. From the small rural town of Lake City, she believed that everyone – from every corner of the state – was important and meaningful when you looked closely enough.
Because every person and place is meaningful, Michele pushed leaders and coalitions to work with people who often find no seat at the table. That meant parents, youth, working people. If you were trying to change something, Michele could be the ultimate ally. But you better believe she'd come to you with a "bee in her bonnet" (a phrase she often liked to use) about something that mattered. Whether addressing a new hire or veteran, trusted partner or a newly elected official, Michele could pose a question that made you reflect on where you were going, how you were getting there, or who you might be forgetting about, and why.
By living out her values, Michele lived a kind of politics that we all can model.
Politics will always be confrontational, and in a healthy democracy, we often confront each other and ourselves. We give our time to hear and respond to people with a stake in an issue or a perspective we don't share. We challenge those who at the end of the day might side with us on an issue in order to be a stronger, more effective advocate. We challenge ourselves to understand who needs us and how.
From Michigan's Children for over 20 years, Michele pushed lawmakers and advocates towards confrontation and dialogue that led to results. And her brand of politics helped Michele persist through the most stressful decades since the Great Depression, and in the process helped win real achievements for children, youth, and families in need.
Right after Michele became a professional advocate, state tax cuts in the '90s led to an evisceration of human services. So much progress that inspired Michele, wiped out. Then our economy failed, and democracy struggled. A state government shutdown. A recession caused by trends set in motion years before, pinned on Michigan's first woman governor. Michigan's Children found itself on the verge of financial collapse. Michele developed cancer.
Through it all, she fought, organizing people around a foster care Children's Bill of Rights, funding for foster care youth transition supports and scholarships, and programs that offer baby pantries, developmental services, and classes for young, stressed parents. This just scratches the surface of her accomplishment in the face of historic change. She helped organize Michigan's first Foster Youth Legislative Job Shadow Day and the Michigan Kinship Care Coalition. Michigan's Children, thanks to tireless work from Michele and others, is still around and healthy. Michele always reminded people that if you have a choice between connecting a lawmaker with a lobbyist or with a parent, choose the parent every time.
This year for many has brought more stress to our economic and democratic systems. Armed protests in Lansing and an uprising in D.C. The first ever Michigan high school graduation rate recorded for any student subgroup below 40% was released – 39% for students in foster care. Our current governor subject to assassination plots and elected leaders who wink at the plotters.
For the first time in my life working with her, I heard Michele express whether or not she could seriously engage with state legislators in the face anymore after some supported delaying the election results.
But I know she would have found a way.
Because Michele, ever the social worker, knew that each of us can build solidarity with others based on our experiences and our needs. That each of us can be leaders who recognize the dignity of others in our own way.
Just keep a bee in your bonnet.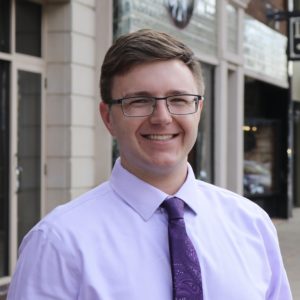 Bobby Dorigo Jones is Michigan's Children's Public Policy Director.