More Ways to Vote, More Important to Keep Engaged
With all of the conversation this week about ballots being counted, including misinformation about our very efficient election system, I turn to a couple of bright spots.
There has been unprecedented voter turn out and that is a good thing.  The reason why it is taking longer to get results of the election is not some kind of fraudulent behavior, as some are wanting us to believe, but it is because we had record numbers of people cast ballots over this election cycle, culminating in the people, like me, who just had to go in person to the polls on Tuesday.   Our election system will be able to get everyone's ballot counted and a legitimate winner will be decided for all races, including that of the President.
Some of that unprecedented turn out in Michigan is because we've made it easier, not more difficult, for people to cast their vote.  Pandemic or not, presidential election or not, we've made it a priority to help people access the vote casting system, in whatever way works best for them.  Let's take my family as an example.  We have four voters this year – a 20-year old, who did vote in 2018, but was definitely paying closer attention to the election this year; an 18-year old, first time voter; my husband, who runs a small business in Lansing where we live; and myself.  We were able to vote in several different ways, the ways that worked best for everyone.
First, my husband, who has voted in many elections before, but was really quite excited about voting by mail this year.  He has a busy schedule as a restaurant owner and always feels a little pressured at the polls, pressure to quickly make his voting decisions and get out of there.  He loved the idea of having the ballot at home, being able to really think long and hard about the candidates for all levels of office.  He was glad to have some time with the proposals, which are sometimes confusing.  Then, he mailed his ballot in with plenty of time, getting confirmation from our city clerk's office that his ballot had been received.
My 20 year old had a really busy day on election day with work and school, so was glad to have the option to vote early (only a day, but still) at the city clerk's office.  He had been considering not voting, because of his schedule, which we know is an issue for many people who work jobs that aren't flexible, maybe go to school at night, have to make arrangements for the children or parents that they care for, and trekking out to the polls just feels like a lot to handle, even when they are well aware of what is at stake.  This early voting option made it easier, and he voted.
My 18 year old thought he was registered to vote, but found out last week that he was not.  Unfortunately, lots of people get confused about their registration but in Michigan, it is easy to double check if you are registered or not.  And, in Michigan, not being registered a few days before election day isn't a problem, you can register to vote right up until the polls closed on Tuesday night, and you can vote at the same time that you register.  He decided to go with his brother on Monday to register and cast his first vote at the city clerk's office.
Mine was the most complicated.  I thought that voting by mail was going to be my best option.  I requested an absentee ballot and was sent one in the mail.  I looked at it, watched my husband vote and mail his, and I just couldn't do it.  I've always loved going to the polls to cast my vote – to see neighbors and thank everyone who works so hard there to make our system work.  So, I decided I would go in person yesterday.  I had been told that I had to bring the absentee ballot that had been issued to me to be invalidated, and the poll workers knew just what to do.  We invalidated that ballot, I was issued another and just like always, with a bit more social distancing, I cast my ballot with the many others waiting in line to do the same.
Despite difficult rhetoric that will likely last for several weeks or months about this election, regardless of the outcome, the will of the people who cast their ballots in all the ways that my family did, and a few others, will be followed.  Votes will be counted.  The unprecedented engagement and systems that helped to facilitate it in the vote this year is only the beginning of what I hope will be unprecedented engagement in building the best policy and practice for children, youth and families that we can.  Michigan's Children will keep working to find many avenues for that successful engagement as well.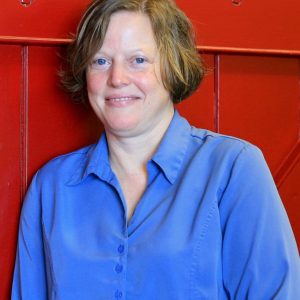 Michele Corey, Vice President for Programs