Young Lansing Voter Urges Peers: Vote for Your Rights, Your Future and Most of All, Your Happiness
I'm 24 years old, and I know a lot of people my age that don't vote. I've wondered why, but I think most young people have neglected voting because they don't believe that their opinion matters. Some say they don't know how to vote, and don't even know what a ballot looks like. I've been voting since I was 18. My mother always told me to vote. She said you need to know who you're voting for. I grew up in the heart of Lansing – just a few blocks from downtown – and have seen many changes that illustrate why it's important to vote.
As young adults, we have seen a lot happen in the past years in Lansing, even before 2020. Recently, there have been protests at the Capitol that have continued for days, but over the years we've seen our schools shut down and favorite neighborhood stores close. A lot of people I know can't find jobs, especially now. Those smaller stores that closed had needed jobs. Budget cuts have closed a lot of our neighborhood schools like Walnut Elementary and Dwight Rich Middle School. My sister worked in the education system and she ended up getting let go.
I didn't pay attention to politics or petition-signing when I was younger, but now I know it's very important to support proposals for schools, and government loans that keep businesses open. Being an active voter gives you a say in what happens to things that matter to you – in my case, support for college to keep tuition rates down and making road improvements. I'm going to school to earn my CDL license to help me get a good job driving a truck. College tuition can be pretty pricey. A lot of people are struggling with college debt. Winter is coming and people are worried about the roads. Michigan roads need some love and funding is a big part of that.
I tell everybody now, especially people voting for the first time, to pay attention to the candidates and issues and do your research. The Internet is a heck of thing for research. Pay attention to what candidates say they can do or can't do because those are the things that really affect what is going on in your community. Look for people trying to fight for causes to help students pay down their student debt, for example. If you're not voting, you can't complain about high tuition.
When we were younger, we had nothing in the world to worry about, we just had to grow. Now that I am a young adult, I have seen the importance my voice and vote matters. To my generation and to the younger generations, think about the things that are most important to you and your future, like your education, your future family or even your future career. Voting is who we trust with our future, financially and emotionally. When the younger generation doesn't vote, we could be putting our future into the wrong person's hands.
Young people have an important voice in the political world. If more young people vote in America we can have the funding and resources to make a better future. We are the voice for our family, our friends but most importantly we are the voice for ourselves. To the younger generation, vote for your rights, your future and most of all your happiness.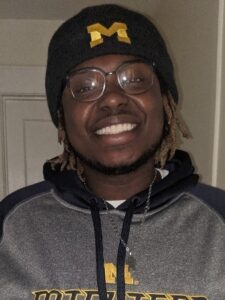 Juwan Trainor attends the Peckham Right Turn program. He works fulltime as a warehouse laborer and is completing requirements for at commercial driver's license at Lansing Community College.