Meet Maddie, Our Newest Intern: Community Building and Education Online
Over the past few decades, neighborhoods in many areas have drifted apart. Now amidst this pandemic, people don't have the same opportunities that they did a few months ago to meet and connect with people in their communities, and a change has been happening. Disparities are becoming more pronounced, but all the while, communities are finding innovative ways to connect.
With less opportunity to meet face to face, neighbors are becoming more creative. If you walk around the many diverse neighborhoods in Michigan, you will likely see a new addition to some of the houses: paper hearts, children's artwork, and chalk masterpieces. A home in an East Lansing neighborhood that I passed by even had a daily riddle written on a chalkboard sign. These creative creations made for passersby illustrate that neighbors care about the wellbeing of their fellow neighbors, and remind us that simple things that get us smiling, really count.
The reality of community building is that much of it happens face-to-face, which is not generally possible during this pandemic. Despite this barrier, people are finding ways to connect and build communities online. New Facebook pages for neighborhoods are popping up to create a space to meet your neighbors virtually and lend a hand when a neighbor needs help. Many college student organizations are meeting virtually to give students a space to meet people with common interests outside of the limiting virtual classroom environment. A program at MSU is piloting a project that connects older adults in East Lansing with MSU students, to fight loneliness in the older adults and to give students an opportunity to learn from someone with life experience, and potentially experience in the career that they are pursuing. It's not perfect, and it doesn't replace the added connection that comes with being in-person, but people are finding ways to stay connected with community online.
During this pandemic, many options for staying connected to community are limited to the computer, coupled with the fact that, according the Michigan Department of Education, 70% of students need internet access for their schooling, and 28% do not have home WiFi. (Khan, 2020). Amidst the pandemic, disparities in internet access have become more pronounced and the need to provide access more urgent. One attempt to combat these disparities in real-time is the Michigan WiFi Hotspot Map. (Thompson, 2020). It shows the free WiFi locations in many cities and towns across the state. Of course, this resource would require the user to have access to the internet on their phone or another device, which is a bit counterintuitive, but nevertheless it is a resource to the community that should be shared in paper version and on signs across the state. Back in May, U. S. Department of Agriculture's Broadband ReConnect Program gave $22.5 million to Michigan internet access providers to bring broadband to rural areas. (Thompson, 2020). To ensure that progress is made on this initiative, we must pay attention to how this money is used and continue to pressure the federal and state legislatures to give families access to the community building and educational resource of WiFi and computers in their homes.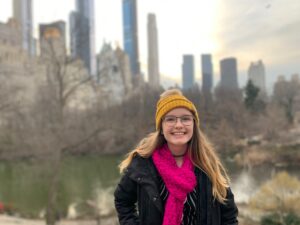 Maddie Elliott is an intern at Michigan's Children
References
Khan, N. (2020, September 11). Here's how you can find free internet in Michigan. Retrieved September 17, 2020, from
Thompson, B. (2020, June 09). Michigan Launches Online Map of Free Wi-Fi Hotspots. Retrieved September 17, 2020, from