Census: Closing the Gaps a Pandemic Further Exposed
Families and communities across the nation are having to make many tough decisions, many of which they never considered before. The closure of schools and workplaces have left many Michiganders with the choice of sending their child to school or not, however; this concern is virtually universal among families with children. There are many families and communities who are left to face even tougher consequences; vulnerable families who faced existing barriers are left questioning if the resources and services received from local, state, and federal municipalities will be available tomorrow, let alone over the next decade.
Here lies the importance and imperative duty for all of us to complete the 2020 Census and encourage others as well.
The decrease and in some cases complete closure of resources and services many families received due to Covid-19 is directly correlated with there simply not being enough resources to go around. Ensuring all of us in all of our communities are counted in this year's census is absolutely essential.
Earlier this year, when many human service providers began experiencing shutdowns, we as policy advocates, surveyed our network of families, caregivers, educators and service providers who led us to valuable insights and responses, nearly uniform among all respondents. While much of that insight manifested into various communications and recommendations sent to Michigan members of Congress, we know that by everyone in our state being counted, we'll receive more federal dollars allocated to our communities, which in turn allows us to care for our children, youth, and families better.
As we all know, there are some families who are less likely to fill out the Census, and because of our social distancing, agency assistance is more important than ever. Some families need extra help and support, including those with very young children as well as families who are caring for children or youth temporarily through foster, relative, or even fictive kin providers. And, of course, those of you who are serving the most vulnerable families — those who are homeless, involved with domestic or other violence, have mental or behavioral health needs — filling out the Census forms are likely not high on their list of priorities, but counting them is essential.
A changed reality amid the latest public health concerns has forced many to become more diligent and intentful around our actions, not only for our own wellbeing but for the best interests of others — like our neighbors, friends, and youth in our communities. In that same light, it's on us as advocates to remain diligent in ensuring all of us are counted in the 2020 Federal Census.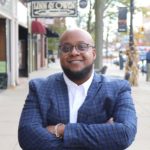 – Adam Bingman is Michigan's Children's Director of Communication & Outreach