Oftentimes, we enter into our work of public policy advocacy with many goals on the forefront of our agenda, both individually and organizationally because we know the greater real-life impact our efforts will be seen, heard and felt by many — and in the aftermath of the murder of Mr. George Floyd at the hands of police brutality, we as advocates must also see, hear and feel the cry of a nation and world who awaits real, tangible change, this time.
People of color and other historically disenfranchised communities have long awaited this critical time of recognition and vocal alliances with others who have been mum on the issues of systemic racism, power and oppression, and the greater inequities such a system has forced.
Nonetheless, before illustrating how our work at Michigan's Children continues to be part of the solution equation with the ability to revert some of these societal wrongs through policy change beginning right here in Lansing, I must say to a community and nation in mourning: we hear you, see you and feel our collective outrage at the racism and abuses of power that have taken the lives of, recently, Mr. George Floyd, Mr. Armaud Arburry and Ms. Breonna Taylor. Our deepest thoughts and prayers are with their families, community, and others who resonate with their experiences and voices being suffocated by the adverse systems and individuals who swore to protect, serve and ensure justice for us all.
We Can't Breathe or rest easy until our work towards enacting real policy change is no longer a distant wish, dream or figment of our imagination, but a reality, both here in Michigan and across the country.
Michigan's Children continually works not only in the best interest of youth and families but in the best interests of the greater communities, in which many of our most vulnerable Michiganders reside. Our unified goals may often seem far and wide-ranging, because it's hard to imagine upgrading a system that wasn't built for you, to in turn through active policy advocacy and change, it begins to reflect the often unseen hard work that you and many others have exerted.
The historical blueprint for rights and suffrage movements of our past shows us that the great 'fire in the belly' of many activists and change agents starts as a reaction, a knee-jerk reaction, to the adverse and often life-threatening circumstances, we as people, face – whether it be physical or mental, financial, educational or geographic, that reaction ignites subsequent action that emerges in the form of organizing, protesting and advocacy, with the hopes of forging policy change.
Our organization, Michigan's Children, is committed to not just being a non-racist advocacy organization, but an actively anti-racist advocacy partner towards our unified vision of a more just community, society, and world. We know the positive outcomes produced by effective, meaningful policy change often has residual sentiments of serving the best interest of our most vulnerable Michiganders, but let us be clear — real policies like the work we'll continue to produce is not only to close the various equity gaps that exist, but also in defense of Black lives, Black families, Black communities, and the dignity and respect therein.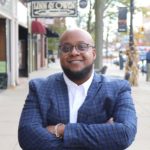 – Adam Bingman is Michigan's Children's Director of Communication & Outreach