Protest is Advocacy, Advocacy is Essential
I am horrified by our systematic police brutality and unwarranted excessive use of force with the rest of the state and nation, and I am ever-challenged to help change the systems that continue to allow inequities in a host of education, work and life outcomes by race for children, youth and families. At the same time, I am proud to stand with protesters as they do what required of all of us when we see injustices – stand for justice and change, and communicate with those who make investment and program decisions what is not working and what needs to be done.
We have a representative system that governs us, we elect people to bring our concerns to bear in decisions made at all levels of government and all types of service delivery, including law enforcement, juvenile justice, child welfare, education, and others. Those that we elect and those that they appoint need to hear from us, through existing communications channels like advisory structures, calls, letters, meetings. And, when that communication has broken down, through gatherings and protests. With issues like the pervasive, abhorrent treatment of African Americans by law enforcement, too often resulting in their injury and death, there is a need for tactics that raise the issue clearly and a need for ongoing communication to ensure swift and rectifying action. Many will need to lead these actions and all need to participate in their support.
We can't forget that this is an election year, and one of the most powerful ways to raise voices is through our vote. With the understanding that exercising our hard-fought right to vote has not always brought the changes we seek, it is a necessary step to moving forward coupled with ongoing action following elections. As we evaluate how leaders have responded to the current conversation, that needs to make its way into our decisions about who we choose to represent us on critical issues of institutional racism, policing, and all others.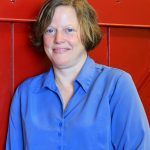 – Michele Corey is Michigan's Children's Vice President for Programs