Resolve to Do the Right Thing in 2020: Michigan Must Restore Plans to Expand CASA Program for Children in State's Care
We all agree that the child welfare system in Michigan is overburdened. Case workers often have too many and too complex cases for any one person to handle. The system works overtime to try to keep kids from falling through the cracks, yet there is no room for the individual attention and advocacy that a child in crisis needs.
For these children, Michigan established the Court Appointed Special Advocates program in which volunteers are appointed by a judge to speak up for the best interests of an abused or neglected child, bringing urgency to his/her needs. They become a dedicated voice for a vulnerable child in the court proceedings that surround a case.
Michigan's 2020 budget, signed by the Governor late last year, is now underway but with a glaring hole for children and youth in foster care and for those whose guardianship is in transition. Approved by the Legislature but vetoed by the Governor was a $500,000 appropriation that would have begun plans to greatly expand CASA services in grossly underserved counties and open new programs in unserved counties. There is no doubt that CASA volunteers are needed in every one of our state's 83 counties, but political disagreements among state leaders has left a missed opportunity to do the right thing. The state after all is primarily responsible to serve in the best interest for the almost 13,000 children in Michigan's child welfare system.
To illustrate how CASA volunteers have made a difference in the life of children in the state's welfare system and why funding must be restored, here are just a few real life examples of what our CASA volunteers have done to help children in the system.
•The volunteer who contacted each of the 11 high schools a foster youth had attended and recovered enough credits so that the teen could graduate on time.
•The CASA who helped a foster child with a large cavity in her molar. The girl would not go to the dentist because she was terrified of needles, and her insurance would not pay for nitrous oxide. The CASA volunteer found a dentist who understood the child's fears. He used the calming medicine and tended to the child's needs with respect and kindness.
•The tenacious volunteer who scoured through the confusing files of a young boy who was languishing in the foster care system. The CASA found an aunt and uncle in another state who had adopted the boy's older sisters. The couple had no idea the boy existed until they were contacted, and they began the adoption process almost immediately.
•The many other volunteers who make sure "their kids" have the necessary things to start school, or who fight for money so a foster teen can play football or take driver's training.
Every child has different needs. A CASA volunteer develops a relationship with the child, family and professionals involved and becomes able to advocate for the child and his or her specific needs. CASA volunteers are a constant presence in the life of the foster child. When volunteers are screened and specially trained, it is with the understanding that they will stay with their case until each child is in a permanent and safe home.
Nelson Mandela once said, "There can be no keener revelation of a society's soul than the way in which it treats its children."
In a time when many are questioning the soul of our country, it is imperative that we give these children someone who will fight for them, who will stand side by side with them, who will give them a voice.
Our "soul" is revealed in the look in a boy's eyes as he prepares to be adopted, the look in a girl's eyes when she is reunited with her siblings or the look in a teen's eyes when, against all odds, she is accepted into college. Those looks are the result of small miracles, and small miracles are the result of CASA volunteers.
It's not too late to do the right thing. Please restore funding for expanding the CASA program so that more children have a CASA volunteer in their corner when they most need an advocate.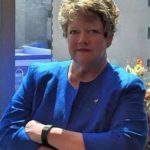 Patty Sabin is the President/CEO of Michigan CASA, a nonprofit organization that establishes and supports the 27 affiliate programs across the State that recruit, screen, train, and supervise CASA volunteers.