A Son's Perspective: Program's Closing Ends 'Help and Advice' Adoptees Need
My name is Diego Garcia. I am 15 years old, and I have a younger brother, who's 8. When I was an infant I came to live with my adoptive mother, Shelley Garcia. Over the years my family has been involved in many activities for adopted children like us through the Adoptive Family Support Network (AFSN). AFSN programming has benefitted me in numerous ways, and I have made many friends through AFSN events. Being part of an adoptive family is something I share with the other kids that I have met through AFSN. This may not seem like a big deal to a typical family, but believe me, it matters! I was devastated when I heard that AFSN got shut down due to lack of funding, because I won't get to see my friends. This means that all of the families like ours that have gone through adoption cannot seek help and advice on the struggles they may face.
Our family has unique challenges because of adoption. My brother has significant behavioral challenges that can be embarrassing at times. But when we are with other AFSN families, I can talk to other kids who have siblings with similar challenges and I feel more "normal." Making friends that understand those challenges has been very important to us.
AFSN events are special to me, such as the trip to Great Wolf Lodge that we take every year; families from all around the state come on this trip. I have been going on the Great Wolf Lodge trip with my family for four years, and I wait in anxious anticipation every year, so I that can see my friends that I see exclusively on this trip. The program being shut down means that families that were previously connected may not be able to maintain those connections and that may lead to feeling isolated and alone.
My brother is not biologically related to me. He's African-American. Sometimes when we're with other kids and parents we stand out because we "don't match." But AFSN events provide a place where we can be around other families that look like ours. I remember the joy that lit up his face when we went to an AFSN events for the first time, as he saw others who looked like him. I could tell he was happy there. Now tell me, are you really going to cut funding and extinguish the joy that lights up on every child's face, in hundreds of families?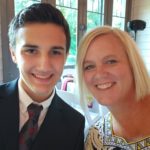 Diego Garcia, whose adoption was finalized in 2005, lives with his family near Grand Rapids. After taking part in AFSN family activities as a parent since 2011, his mother went to work for the network in 2014 until she was laid off recently due to state budget disputes.