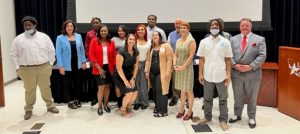 Students Triumph While Asking the Tough Questions at Candidate Forum
Lansing, Mich. – When the lights went up, and the stage was set, the teens from Peckham Inc. and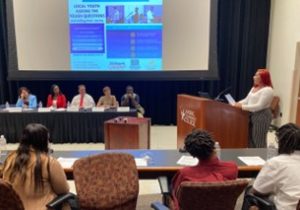 Highfields Inc., two Lansing-area youth development programs, came up to the microphone one by one, some wearing big smiles, others more timidly. But to a person, they triumphed.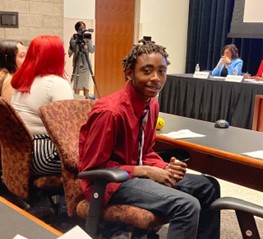 In front of candidates for the state Legislature, cameras, journalists, and rows of observers in the auditorium at Lansing Community College – Delta Campus, the young people went on to speak of the most personal challenges in their lives, then asked the adults before them how they would address these issues if elected.
Enrolled in Peckham's Youth Services program for court-adjudicated youth, they posed serious issues facing young people across the country – how to handle seemingly insurmountable college loan debt, abortion, sexual abuse, foster care, child care, the environment, and how to stay connected with incarcerated parents. Fox 47-TV reporter Elle Meyers moderated the forum and lent them a shoulder to lean on as a professional interviewer.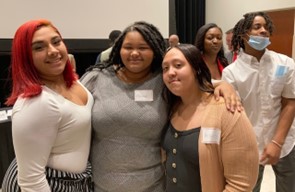 Candidates were invited from the newly redrawn 7th Congressional District race, the 21st State Senate District race, and the 76th and 77th state House districts races. Attending were Senate hopeful Sarah Anthony, a current state representative; and four House candidates, namely incumbent Rep. Angela Witwer and challenger Jeremy Whittum in the 76th District race, and Emily Dievendorf and John Magoola in the 77th House race. Citing work obligations, U.S. Rep. Elissa Slotkin and her challenger, Tom Barrett, a state Senator, sent personal statements directed at the students.
"Our students did a wonderful job," said Sarah Britton, Director of Peckham's Prevention & ReEntry Services. "Coming from various communities, and lots of experience with law enforcement, the school system, foster care, substance abuse, the streets, gun violence . . . they've been exposed to so many different parts of our community that make them the perfect persons to talk to people running for office."
Both candidates for the 7th District Congressional race – incumbent Congresswoman Elissa Slotkin (D) and her challenge, state Sen. Tom Barrett (R), sent the students letters apologizing that work commitments in Congress and Lansing prevented them from attending.
– By Teri Banas, Michigan's Children Director of Programs and Communications