Muskegon Candidate Forum Shines Spotlight on Need to Boost Literacy
Muskegon – For nearly three hours, Muskegon County residents showcased the need for improved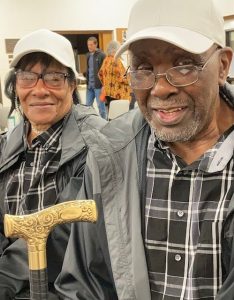 education and expanded literacy in their region before candidates for federal and state offices in a well-attended forum on Sept. 26, 2022 that brought out people like Bennie Spann and his wife, Annie.
Spann, a 78-year-old basic adult education student with a never-too-late attitude, was among 10 residents who asked questions at the forum in Muskegon Heights' Covenant Community Church. Spann generated applause when he read quietly but clearly from a prepared statement before Congressional office-seekers, telling the audience he learned to read at age 70 "and now I can read books."
"School is important to me. I never got a chance to go to school when I was young," said the Mississippi native, who went to work at a young age, instead. Pointing out that over half of adults in the county read below a sixth grade level, Spann (pictured on the right) said more funding would help working adults achieve life- and career-enhancing literacy skills needed in today's society.
Candidates also heard from residents such as M'ba Camara, an English language learner from Africa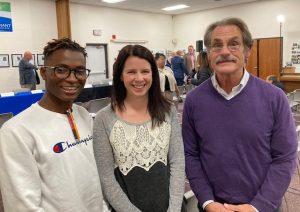 now working to build new computer skills, who represented the need for literacy education among new immigrants. Kady Ohs, an early childhood and parent educator, who helps lead playgroups in the county where literacy education is stressed, also addressed the group. (Both pictured right)
Patrick Brown, executive director of the Michigan Adult, Community and Alternative Education Association (MACAE), said making literacy education a priority is critical today. In the Muskegon region served by groups like Read Muskegon, funding for literacy education accounts for a small portion of those who qualify.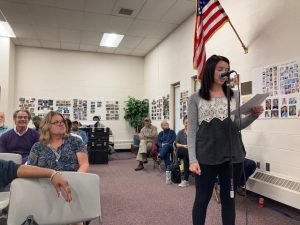 MACAE, Read Muskegon and Michigan's Children sponsored the forum, and invited all candidates for the 2nd and 3rd Congressional district races, state Legislative candidates for the 32nd Senate District and the 87th, 88th, and 89th, and 102nd state House district races, and Muskegon County commission candidates.
Attending were: Congressional candidates Jerry Hilliard (D) in the 2nd District race, and Hilliary Scholten (D) in the 3rd District. U.S. Rep. John Moolenaar, (R), a candidate in the 2rd District race, was working in Washington, D.C. and unable to attend. He chose not to send a surrogate. 3rd District candidate John Gibbs (R) initially agreed to attend, then bowed out.
Among state legislative candidates attending were 32nd state Senate candidate Terry Sabo (D); 87th House District candidate Will Snyder (D); 88th House District candidates Christine Baker (D) and Greg VanWoerkom (R); 89th House District candidate Luke Meerman (R); and 102nd House District candidates Curt VanderWall (R) and Brian Hosticka (D).
Also attending were Muskegon County Board candidates: Michelle Hazekamp (District 3); Doug Brown (District 6); Marcia Hovey-Wright (District 4); Dan Potts (District 4); Darrell Paige (District 7); Bruce Froelich (District 1); Ashley Podein (District 3); Jessica Cook (District 6); and Charles Nash (District 5).
Speakers and candidates discussed the role literacy education plays in a variety of areas: as a precursor for adult education and job training programs, early childhood development and family literacy, and in the corrections and justice systems, where an estimated 75 percent of those incarcerated are functionally illiterate.
During the meeting, candidates expressed a desire to continue to delve into these issues. 'I'm here to learn. Help me understand this better,' Meerman said.
"I really value adult education and what they're doing for students," Sabo said. "They aren't there because they have to be there, because they want to be there."
"We're thrilled with how well things went – especially given it was our first time hosting a forum," said Melissa Moore, Executive Director of Read Muskegon (pictured in top photo), noting the responses many candidates shared in support of improved literacy and education programming. She also shared that the forum took place on the same night as an important Muskegon Heights school district meeting where parents and teachers turned out to decry the serious financial and operational challenges facing their K-12 district today.
"We need to work with all students, of all ages," VanderWall told the audience.
– By Teri Banas, Director of Programs and Communications for Michigan's Children