House Candidates Address Family Concerns at Judson Center Forum
Royal Oak – The Judson Center candidate forum took place on Sept. 29, 2022 and included Rep.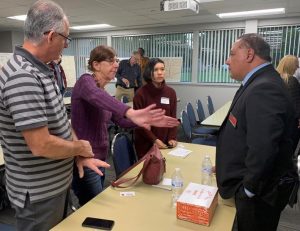 Regina Weiss (D) and Charles Villerot (R), from the 6th House District race; Wendy Webster-Jackson (R) from the 18th House District race; and Sharon MacDonald (D) and Mark Gunn (R) from the 56th House District.
Organizers from The Judson Center and Michigan's Children had invited all candidates in races of local interest, including in the 12th Congressional District, the 7th state Senate District, the 8th state Senate District, the 6th state House District, the 18th state House District, and the 56th state House District.
There was a range of topics addressed. One example was what could be done for foster care youth who might be from other countries and protected tribes struggling to get proper clearance and documents to legally work in the State of Michigan. Another question addressed how to assist youth in foster care find sustainable employment and mentorship opportunities as they transition out of care.
The candidates shared their personal stories in response to many of the questions. These questions were posed by the audience members whose background and socioeconomic status covered the spectrum. The candidates engaged the room full of participants as they responded to questions about foster care, school bullying, and addressing students with special needs.
"Judson Center was proud to partner with Michigan's Children on the Candidates' Forum. The room was filled with the individuals, children, and families we serve, and they were eager to let the candidates know what they need most from their elected officials. The event was educational for both the audience and the candidates. Plus, it was a great extension of our mission to provide services that strengthen our consumers and our community," Judson Center President & CEO Lenora Hardy-Foster said.
The event was streamed via Facebook live and is available for viewing on Michigan's Children's Facebook page.
By Lindsay W. Huddleston II, Policy and Program Associate for Michigan's Children