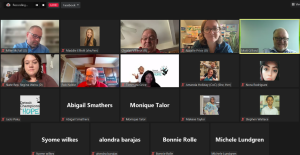 Detroit Parents Meet Up Virtually with Candidates in 8 House District Races
Detroit – Concerned Detroit area parents and community members addressed a variety of issues important to family life and well-being at a virtual candidate forum featuring several state House races on Sept. 26, 2022.
Sponsored by Detroit Champions for Hope, Congress of Communities, and Michigan's Children, the event brought out parent concerns over affordable child care, living wages for early childhood educators, school funding, destigmatizing mental illness, affordable housing, and local ballot proposals.
The forum featured invited candidates from newly drawn state House Districts 1, 4, 5, 6, 7, 8, 9, and 10. Eight candidates attended. They were: Rep. Tyrone Carter (D) in District 1; Natalie Price (D) in District 5; Rep. Regina Weiss (D) and Charles Villerot (R) in District 6; Mike McFall (D) and Rob Noble (R) in District 8; Rep. Abraham Aiyash D) and Michele Lundgren (R) in District 9.
Candidates reflected on their own personal experiences, past and present, as they fielded questions about how they would push for equitable policies in Lansing. "It was really great to get to know the candidates during the forum," said event co-sponsor Amanda Holiday, representing Congress of Communities. "I was encouraged to hear so many of the candidates provide their support for issues surrounding child care affordability, quality education, and support for families."
"My hope is that they continue that commitment when they are voted into their positions," Holiday added.
This event was streamed via Facebook live, and can be viewed again on the Detroit Champions for Hope Facebook page.
The sponsors will host a second online forum, this one featuring candidates in races for state Senate districts 1, 2, 3, 6, 8, 10, on Oct. 24, 2022. See Michigan's Children's webpage for details.
– By Stephen Wallace, Engagement and Mobilization Associate; and Maddie Elliot, Policy and Programs Associate