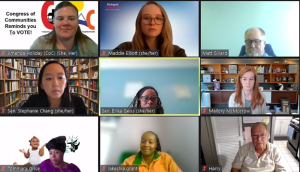 Senate Candidates Take the Stage at Champions for Hope Forum
Detroit – Detroit-area parents spent an hour and a half addressing issues worrying their families at an online forum featuring candidates for the state Senate on October 24.
Sponsored by the Detroit Champions, Congress of Communities, Michigan's Children and Think Babies Michigan, parents discussed a variety of topics tied to quality of life, the rising cost of living, and education. Topics touched on their children's education, funding for public and charter schools, universal pre-K, child care, teacher shortages, mental health, rising college costs, community health, neighborhood disruptions caused by excessive truck traffic, government funding for safety net programs including food stamps, and the three statewide ballot proposals.
All candidates seeking seats in Senate Districts 1, 2, 3, 6, 8, and 10 were invited, and four attended: Democratic Sen. Erika Geiss in the 1st District; Republican candidate Harry Sawicki in the 2nd District; Democratic Sen. Stephanie Chang in the 3rd District; and Democratic Sen. Mallory McMorrow in the 8th Senate District. Redistricting has changed the boundaries for political districts across Michigan this year, but none of the races as expected to be competitive on November 8th.
In answering questions, the candidates agreed more needed to be done for the most vulnerable members of the communities, but their answers differed.
One parent of a child with special needs, who said she chose a charter school for her child's education, bemoaned the lack of attention to their special needs there. "Why isn't care across the board?" she asked.
Geiss replied that Michigan's charter schools are not required to provide special education for their students, as public schools are. Sawicki, a supporter of schools of choice, said the legislature should provide more funding to charter schools. Chang directed the mother to seek resource assistance from groups like the Michigan Alliance for Families. McMorrowsaid the discrepancy the mother experienced is due to Michigan's decision to hold charter schools to different standards than public schools. She added that Massachusetts has one of the best charter school operations in the country because charter schools, like public ones, are accountable to their state board of education. "We need to bring up education across the board, so you don't have to choose between a quality education and the special needs your child requires," McMorrow said.
Twenty-eight participants attended. To listen to a full recording of the virtual forum, click here.
The organizations previously hosted a similar parent-led forum for Detroit-area House candidates in late September 2022.
By Michigan's Children staff Stephen Wallace and Madeline Elliott.