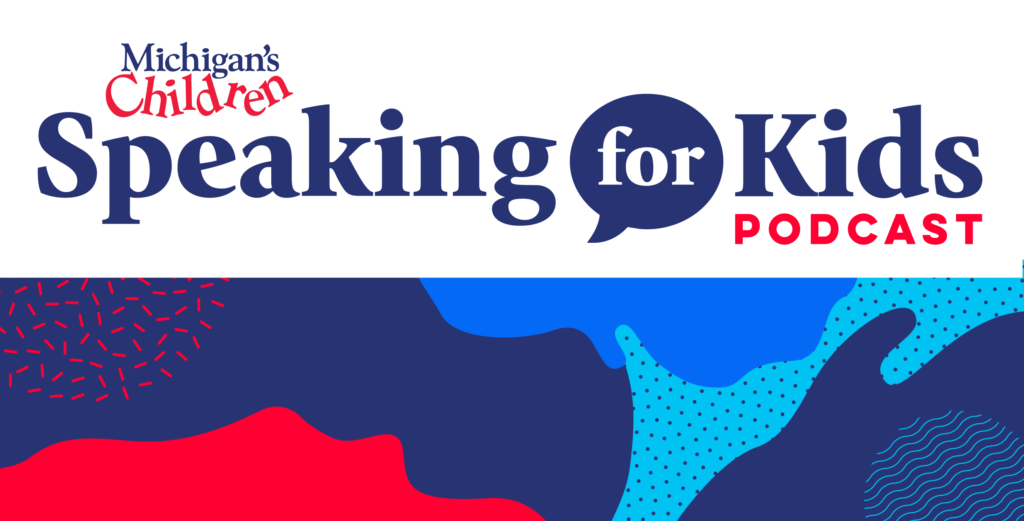 Speaking for Kids, the Podcast from Michigan's Children
Welcome to the Speaking for Kids Podcast page from Michigan's Children. Each month we will present a new podcast led by host Matt Gillard, Michigan Children's President & CEO, on a variety of crucial conversations with people making public policy decisions regarding children, youth and families in Michigan – along with the voices of people impacted by those decisions. Our goal will be to help you strengthen your voice to speak up for the changes we need to improve the lives of Michigan's kids and families, and encourage champions like you to get involved in the issues we're fighting for!
Look for us on the hosting sites – Apple Podcasts, Google Podcasts, Spotify and YouTube. Contact program producers, Teri Banas at teri@michiganschildren.org and Stephen Wallace at stephen@michiganschildren.org, with suggestions for future podcasts.
And if you're new to podcast listening, here's a web article that promises to lay it out the basics for beginners, including finding a podcast on your computer using a web browser, or through an app loaded on your iPhone or iPad.
---

Decision Time: Lawmakers Discuss Governor's $1.4 Billion Plan
for Michigan's Child Care System
Episode 3
June 30, 2021
State Reps. Ranjeev Puri and Greg VanWoerkom, members of the Governor's Task Force on Child Care, and parents of school-age children of their own, sit down with Host Matt Gillard to discuss the Legislature's plan to take up the Governor's $1.4 Billion plan to address the state's child care system and the 8-bill package of reforms working through the Legislature. An issue that's plagued working parents for years, child care access and affordability reached a critical point during the pandemic with 100s of thousands of women leaving the workforce in Michigan. VanWoerkom and Puri discuss how the issue has gained bipartisan support and what the prospects are for real change in this and future budget cycles.
Find it on YouTube here.
---

Transforming Michigan's Child Care System: A Call to Action
Episode 2
May 12, 2021
With $1.4 Billion in new federal relief dollars targeted for Michigan, state lawmakers and the Whitmer Administration have an unprecedented opportunity to make some real change in the state's struggling child care system, which is inaccessible for many working families and untenable as a business model for many child care providers. A successful state economy needs a strong child care system for its working parents and their employers. Join us as host Matt Gillard, President & CEO of Michigan's Children, discusses transforming the state's child care system with guests Denise Smith, Director of Detroit's Hope Starts Here early learning framework, and Sheri Williams, owner/operator of Agape Love Child Care Center in Detroit.
Find it on YouTube here.
---

Rookies Lawmakers across the Aisle: Matt Gillard Talks
with Representatives Abraham Aiyash and John Roth
Episode 1
April 14, 2021
In this inaugural episode, host Matt Gillard sits down (via Zoom) with two freshman lawmakers from the Democratic and Republican persuasion to talk about bi-partisan issues impacting children and families, and what they're learning from their constituents. In a refreshingly candid interview, the freshmen lawmakers discuss issues of shared concerns: poverty, food deserts, child abuse, kinship care, the struggles families have with child care, and the help their constituents are asking for, in both rural and urban parts of Michigan. Listen in as Aiyash and Roth pledge to work together on issues of shared importance to their vastly different districts in Hamtramck (near Detroit) and the Grand Traverse Bay region.
Find it on YouTube here.