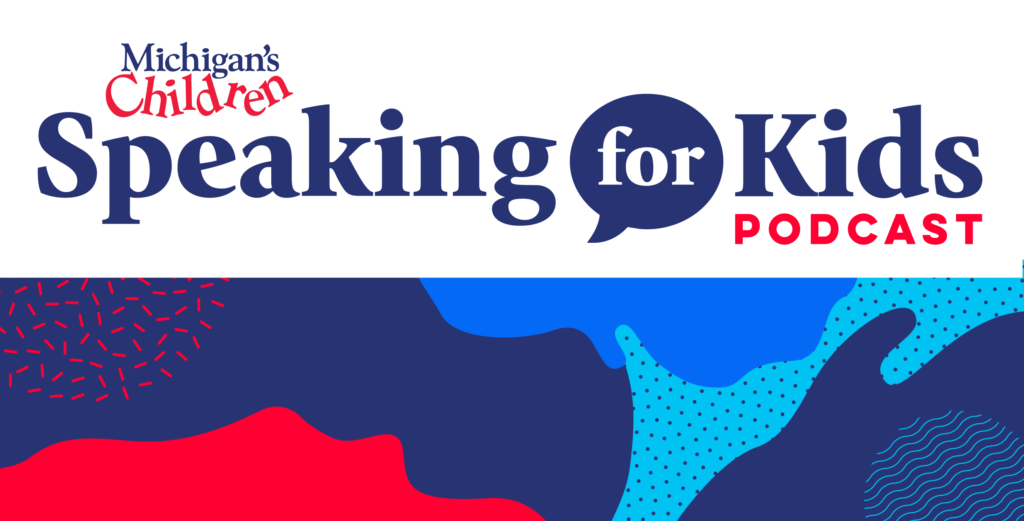 Speaking for Kids, the Podcast from Michigan's Children
Welcome to the Speaking for Kids Podcast page from Michigan's Children. Each month we will present a new podcast led by host Matt Gillard, Michigan Children's President & CEO, on a variety of crucial conversations with people making public policy decisions regarding children, youth and families in Michigan – along with the voices of people impacted by those decisions. Our goal will be to help you strengthen your voice to speak up for the changes we need to improve the lives of Michigan's kids and families, and encourage champions like you to get involved in the issues we're fighting for!
Look for us on the hosting sites – Apple Podcasts, Google Podcasts, Spotify and YouTube. Contact program producers, Teri Banas at teri@michiganschildren.org and Stephen Wallace at stephen@michiganschildren.org, with suggestions for future podcasts.
And if you're new to podcast listening, here's a web article that promises to lay it out the basics for beginners, including finding a podcast on your computer using a web browser, or through an app loaded on your iPhone or iPad.
---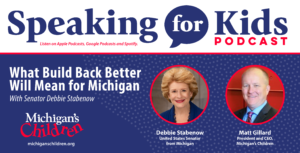 What 'Build Back Better' Will Mean for Michigan with Sen. Debbie Stabenow
Episode 8
December 6, 2021
Senator Debbie Stabenow, the senior Senator from Michigan, joins Matt Gillard in a special Speaking for Kids episode to discuss the prospects for the Build Back Better Act before the U.S. Senate with key provisions for cutting taxes for families (via expanding the child tax credit), universal pre-K, child care, prescription drug prices, and more. She offers her perspective on passing the historic landmark legislation by Christmas and has a special message for the Michigan Legislature. Listen today!
The podcast is available on streaming sites today and can be accessed on our website here.
Additional Resources:
Michigan's Children Report: "Build Back Better Promises Game-Changing Investments for Michigan Families"
---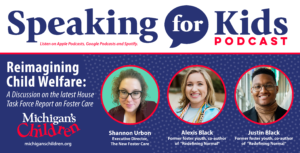 ReImaging Child Welfare: Discussing the Latest House Task Force Report on Foster Care
Episode 7
December 3, 2021
This month's Speaking for Kids podcast features an important conversation about Michigan's foster care system and how recommendations of a new bipartisan task force could raise needed reforms. "Reimaging Child Welfare: Discussing the latest House Task Force Report on Foster Care" brings together three guests with insider knowledge on Michigan's foster care system, a public policy priority area of Michigan's Children. Joining host Matt Gillard are Shannon Urbon, executive director of The New Foster Care, and Alexis and Justin Black, Michigan natives who spent portions of their childhoods in foster care. They recently wrote the memoir, "Redefining Normal: How Two Foster Care Kids Beat the Odds and Discovered Healing, Happiness and Love."
The podcast is available on streaming sites today and can be accessed on our website here.
Additional Resources:
House Adoption and Foster Care Report (PDF) (November 10, 2021)
Redefining Normal (website) with Justin and Alexis Black
---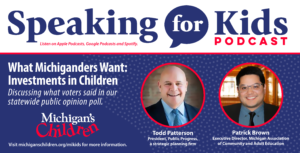 What Michiganders Want: Investments in Children
Episode 6
September 28, 2021
Michigan voters say we must invest in children. In the newest episode of Michigan's Children Speaking for Kids, host Matt Gillard leads an important conversation on the results of a new statewide public opinion poll that finds Michigan voters strongly support greater investments in the state's 2 million children, even if it means raising taxes. Matt and guests break down what 800 likely 2022 General Election voters had to say about their priorities for kids – overcoming learning loss due to the pandemic, supporting kids' mental health, and boosting jobs and skills training, among others. They also discuss the key take-aways for child and family advocates working to improve the odds for all children in Michigan. Matt's guests are Todd Patterson, president of the Washington, D.C. strategic planning firm, Public Progress, and Patrick Brown, Executive Director, Michigan Association of Community and Adult Education.
Listen to an audio version of the podcast here.
---

Is '60 by 30' Achievable for Michigan? The Promise and
Reality of a Postsecondary Education
Episode 5
August 30, 2021
Speaking for Kids, the podcast, explores the statewide drive to urge more Michiganders of all ages to achieve a postsecondary degree or credential from a community college, 4-year university, technical or internship program. With more than 70% of today's jobs requiring a degree or credential, host Matt Gillard discusses Michigan's goal to see 60% of the population attain a career-enhancing degree or credential by the year 2030. Joining him are two special advocates for college access: Michele Strasz, Executive Director of the Capital Area College Access Network, and Sydney Newsome-Smith, a Detroiter serving as a youth ambassador for the Detroit College Access Network, and incoming freshman at Michigan State University. They'll discuss the need to create a college-going culture in Michigan, and the challenges facing college access for many Michiganders, including ways to avoid crippling college debt by finding scholarships and school aid to pay for it.
Listen to the audio version of the podcast here.
---

Why Michigan Students Need Afterschool More than Ever
Episode 4
July 23, 2021
For every child in afterschool, 3 are waiting for an available program, according to America After 3PM. Demand is growing. But how's Michigan's supply shaping up, especially now as student learning has been set back because of the global pandemic? Michigan's Children President & CEO Matt Gillard welcomes two top afterschool advocates to Speaking for Kids, the Podcast: Fran Talsma, Executive Director of the State Alliance of Michigan YMCAs; and Matt Watrous, Lead Director for Government Relations for the Boys & Girls Clubs of America. Even while federal relief dollars have streamed into Michigan to support programs struggling through the pandemic, Talsma and Watrous detail the benefits of community-based programs in youth development and the necessity for reliable statewide funding to begin expanding opportunities for Michigan's children and families.
Listen to an audio version of the podcast here.

Decision Time: Lawmakers Discuss Governor's $1.4 Billion Plan
for Michigan's Child Care System
Episode 3
June 30, 2021
State Reps. Ranjeev Puri and Greg VanWoerkom, members of the Governor's Task Force on Child Care, and parents of school-age children of their own, sit down with Host Matt Gillard to discuss the Legislature's plan to take up the Governor's $1.4 Billion plan to address the state's child care system and the 8-bill package of reforms working through the Legislature. An issue that's plagued working parents for years, child care access and affordability reached a critical point during the pandemic with 100s of thousands of women leaving the workforce in Michigan. VanWoerkom and Puri discuss how the issue has gained bipartisan support and what the prospects are for real change in this and future budget cycles.
Find it on YouTube here.
---

Transforming Michigan's Child Care System: A Call to Action
Episode 2
May 12, 2021
With $1.4 Billion in new federal relief dollars targeted for Michigan, state lawmakers and the Whitmer Administration have an unprecedented opportunity to make some real change in the state's struggling child care system, which is inaccessible for many working families and untenable as a business model for many child care providers. A successful state economy needs a strong child care system for its working parents and their employers. Join us as host Matt Gillard, President & CEO of Michigan's Children, discusses transforming the state's child care system with guests Denise Smith, Director of Detroit's Hope Starts Here early learning framework, and Sheri Williams, owner/operator of Agape Love Child Care Center in Detroit.
Find it on YouTube here.
---

Rookies Lawmakers across the Aisle: Matt Gillard Talks
with Representatives Abraham Aiyash and John Roth
Episode 1
April 14, 2021
In this inaugural episode, host Matt Gillard sits down (via Zoom) with two freshman lawmakers from the Democratic and Republican persuasion to talk about bi-partisan issues impacting children and families, and what they're learning from their constituents. In a refreshingly candid interview, the freshmen lawmakers discuss issues of shared concerns: poverty, food deserts, child abuse, kinship care, the struggles families have with child care, and the help their constituents are asking for, in both rural and urban parts of Michigan. Listen in as Aiyash and Roth pledge to work together on issues of shared importance to their vastly different districts in Hamtramck (near Detroit) and the Grand Traverse Bay region.
Find it on YouTube here.