Calling on Congress for Immediate Priorities for Supporting Michigan's Children, Youth, and Families
Congress is getting set to decide its first orders of business for the 2021 session – and that must include immediate relief for children, youth, families, and the professionals who serve them.
We are calling on Congress for:
Relief for children, youth, and families
Programs and services that support well-being and skill-building
Relief for state and local governments
Download a copy of our letter addressed to your Congressional representative and either send it to them with your support for these three priorities for Congressional action!
Do you know your Congressperson? If not, learn who represents your area!
Michigan Lame Duck Bills Nearing Finish Line, Aid Still Waiting
Youth justice efforts moving forward as the Michigan Legislature passed with overwhelming support two sets of bills that would help position more of our state's youth and families to thrive and contribute to our state's recovery. These bills containing responsible reforms to jail minimums and juvenile record confidentiality await the Governor's signature. The Legislature unfortunately has not yet released any details of a supplemental budget with relief for children, youth, and families.
Read our updated Action Alert and support the Governor's swift signature of the two key reforms for youth. For members of the Michigan Legislature, thank them for getting the youth justice bills passed and remind them that they still need to act to pass a supplemental budget that ensures supports for school-aged children.
Last Call for Federal COVID Stimulus
There are just a few days left to pass a COVID stimulus before Congress adjourns on December 18. A deal appears imminent, but key items that could ease the burden on children, youth, and families in Michigan are still at risk of missing out.  Read our summary for what details are in the proposal here.
Urge your US Senator and Representative to pass a COVID relief bill before the end of the year and fight for additional aid for adult education, child care, family stability, youth transitions, cash assistance, and learning resources for students who have fallen behind.
Last Call for Michigan Lame Duck Actions
There are only a few days left of the "lame duck" period of the current legislative session. Now is the time to finish what has been started over the past two years, or members of the newly seated legislature will have to begin again after the new year.
Supplemental Budget: Understanding that remaining session days are in flux, and that available funds for a supplemental are limited, we are urging passing a supplemental budget before the end of session.
Read our memo to legislative leaders and encourage quick action.
Youth Justice Efforts: Two sets of bills that would help position some of Michigan's most vulnerable youth and families to thrive and contribute to our state's recovery will be reintroduced if they are not passed by both the House and Senate and signed by the Governor by year's end.
Read our Action Alert and help to get these youth justice efforts over the finish line by the end of the year.
Governor Surprises Kinship Advocates with Veto
Everyone was shocked by the Governor's action to veto House Bill 5443, creating the Michigan Kinship Care Advisory Council. After hard work done over the past several years by Michigan's Children, other members of the Michigan Kinship Care Coalition, and relative caregivers and their allies around the state, this action by the Governor's office is incredibly disappointing.
It is important to tell your state legislators in the House and Senate that you are very disappointed in this veto, and you would like to know what they will be doing to try to get this critical initiative in place regardless of the veto. Quickly expressing your disappointment to the Governor's office is also important.
Read joint testimony on the bills given by several Kinship Care Coalition members, and Michigan's Children's letter to the Governor responding to the veto to help with your communications. Find your legislators here, and connect with the Governor's office here.
For more information, contact Michele Corey or Deb Frisbee, Michigan Kinship Care Coalition Policy Co-Chairs.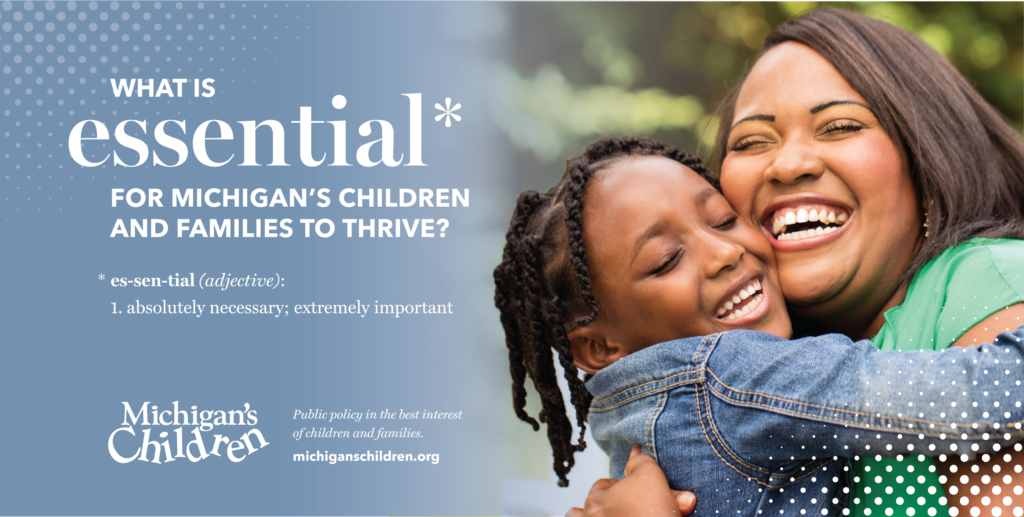 Michigan's Children Covid-19 Advocacy Resources
We've been talking with our members of Congress almost every week, and you need to be talking with them too. Many children, youth, and family needs have not yet been addressed by COVID efforts in Washington, DC, and we need to remind the people who represent our interests there what they need to be championing on our behalf. Click here to get information about how to get in touch with your Representative and Senators and sign up for communications from their offices. They are all holding tele-townhalls and making other opportunities to connect with constituents. Tell them what you know, and take a look at our resources below.
With many partner organizations and advocates within our state and national networks, Michigan's Children has been working to connect decision-makers in Washington DC and Lansing to the needs of children, youth and families during this time of crisis, including:
Understanding the impact of the crisis on hundreds of parents and human services providers through our on-line survey, and other information gatherings, and continually

sharing that understanding

with Michigan decision-makers and the Michigan Congressional delegation.
Keeping informed about federal and state COVID-19

funding efforts

.
Connecting with our network through

email newsletters

containing resources, information, and engagement opportunities.
As we continue to advocate directly to policymakers and Michigan influencers, we need you to remain digitally engaged as well. As we continue to advocate directly to policymakers and Michigan influencers, we need you to remain digitally engaged as well. Use this page to find opportunities for your action with decision-makers from home, we will update it often.