A Year in Review
For Michigan's Children, 2018 was the Year for Seeking Opportunities and Seizing Them; Achieving Success through Perseverance and Partnerships
An Ambitious Campaign Season Filled with Opportunities
The 2018 Campaign Season was Michigan's Children's most ambitious in its three-decade history, bringing together 63 candidates for federal and state offices with youth and families they hoped to serve. The highly-publicized gatherings took place at 11 community-based candidate forums in competitive races across Michigan from Detroit to Holland, Bay City to Fremont/Newaygo County, Rochester to Wyoming/Kent County, Novi to Lansing, and Adrian to Kalamazoo.
Youth-led or family-led, and compelling in their storytelling, the forums created opportunities to showcase dozens of partner organizations working tirelessly to elevate the challenges and barriers facing immigrant families and English-language learners, adult education students, youth and families from foster care, teens from after-school programs, and young adults and teens in juvenile justice programs. The forums raised challenges and solutions on issues families grapple with every day, including those associated with juvenile justice, family stability, economic struggles, childhood trauma and toxic stress, adult and child literacy, improvements in K-12 education, and access to mental health services.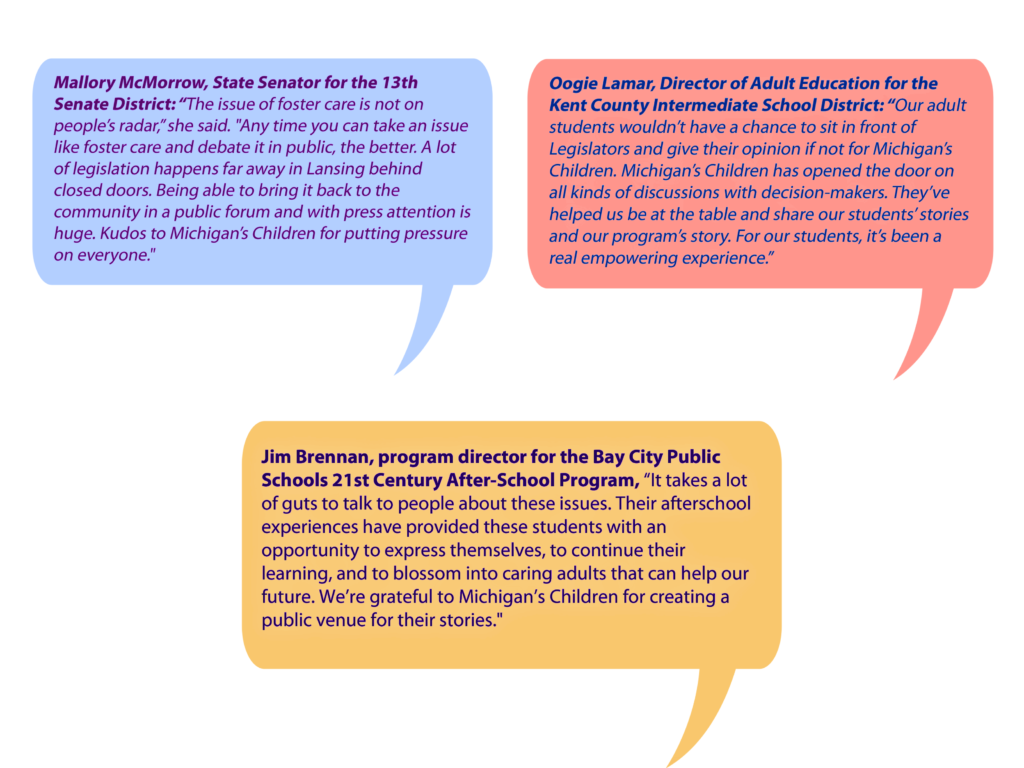 Budget Wins: New Funds for
Infants and Toddlers
The 2018 state budget contained the first-ever statewide appropriation for Early On services for Michigan families. The $5 million win will expand early intervention services across Michigan for infants and toddlers with developmental delays. This would not have happened without Michigan's Children testimony, opinion pieces, and direct advocacy with allies like former Lt. Governor Brian Calley, in coordination with strong partners like the Early On Foundation.
Legislative Wins: Persistence Pays off
For Foster Care
With persistence and proven working relationships with state lawmakers, Michigan's Children pulled out a win for children and families in Michigan's foster care system at the end of the Legislative session by passing the Children's Assurance of Quality Foster Care Act. The bills had stalled for years until 2018, when Michigan's Children rallied foster care advocates such as the New Foster Care, Oakland University, the Junior League of Michigan, and Michigan Protection and Advocacy Services, to urge powerful allies, like now-State Sen. Jim Runestad, to action.
Financial Support
As an independent nonprofit, Michigan's Children continued to attract support from several foundations, businesses, and individuals. Due to the generosity and commitment of our funders, Michigan's Children remain in a sound financial position heading into 2018, but we need your help to keep up the great work.
More About Our Organization
Michigan's Children has over two decades of experience leading policy advocacy for and with children, youth, and families. While our priorities are rooted in their voices, much of our work is done by our small but dedicated staff with the indispensable support of our board of directors. Learn more about our team and our past work here